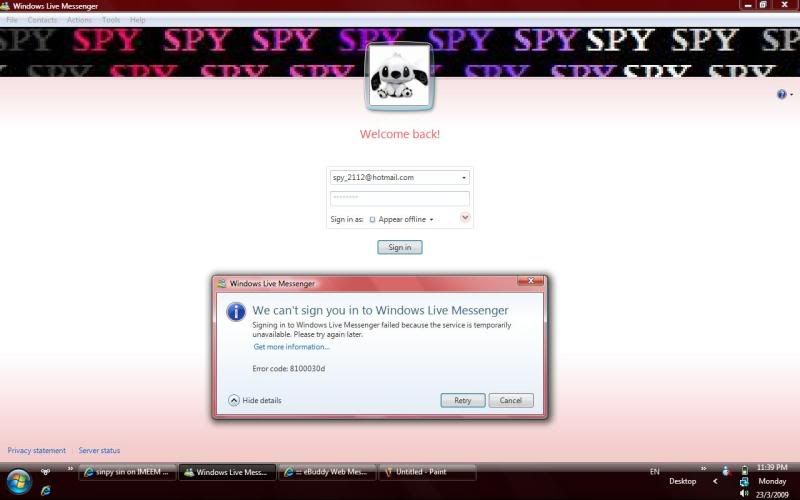 Omg, so so so moody! I find that I can't do with my Windows Live Messenger. I hate it when everything is so ugly. Ebuddy is too plain to use and see. Contact lists, chat windows, main window, ... are all grey, black, white. =.= RAWR!
I just download this new version of msn (version 2009) only like a week ago ++. I can sign in using other email account but not my spy_2112 account. It kept showing error code: 8100030d. I tried finding solutions but no use. Those solutions just don't work on mine.
I am sure my account is not hacked because I can still check my mail. What could be the problem and how to solve it???
Long long ago, when I got msn error or problem, I used to chat online with the msn customer service but now I don't how to go and chat le. Tell me how??? T.T
If someone know how to solve this then please email me:

spy_2112@hotmail.com

. Thank you in advance! :)
If I still do not get a solution by 26-27 March, I am bringing back to RP to reformat computer. I must get this msn problem done as soon as possible or I will feel restless everyday searching for a solution.
Somemore RP IT help-desk is coming up with this service charge policy. 1st and 2nd visit free then 3rd visit onward will be $5 charge per visit. WHAT THE BLOODY HELL! Recession seriously affect everyone! Here charge, there charge! RAWR!
Solution: Seems like no one can help me solve by 26March, I decided to go reformat. :)