No job, no school, no outing, no housework, no project... That's right, I got nothing to do at all and therefore I am bored to death at home. Therefore I went to edit my Imeem account. I have edited the theme to my own unique theme, own unique profile layout as well as sort out my messy playlists.
At the same time, I also discovered
13 new korean hip-hop songs
. The last l3 songs.
Some of my best recommend are:
1. 무슨 말이 필요해 (We shall end) - Rhymer ft. 이진성 (Ee jin-song)
2. Baby ft. E-sang - Taw
3. YMGA ft. Uhm junghwa - Tell it to my heart
4. Wonder girls ft. Dyanamic duo, San e, JYP - Anybody
Enjoy the songs~
At night, I am busy preparing for my next FYP meeting. Was discussing about FYP with Ainah and suddenly she become crazy like a nana nut!
Evidence of turning nut:
I asked her to promise me something. To make the promise more unforgettable (she is having stm), I told her to hook her last finger with me verbally. Then she drew me this in reply~ -.-
Then she went crazy suddenly and so I say she was a NUT. Then she bomb me with a profound malay phrase relating to nut - Kacang gajus. I asked her what it is and she replied Cashew nut with a cute drawing of Cashew nut. Hahahahah~ So cute~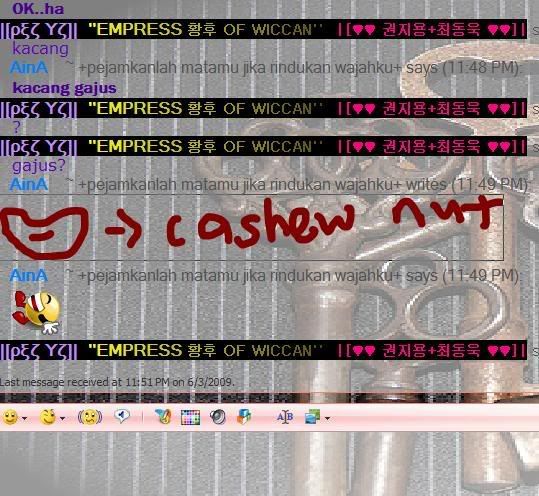 Then I was commenting that she and Fafa had serious stm and so I shake my head at them. Once again she drew what I was expressing~ -.- Did you notice that Aina look like kitten? Meow~ Meow~ Or lion? RAWR! RAWR!
She is a good online/
offline
artist Hohohoho~
Yuhooo~~~ Se7en first US Debut album is going to be release on 10 March... ARHHHHH! SO HAPPY AND EXCITED! ALL THE BEST TO SE7EN~ :)